Public Performance: Place for Community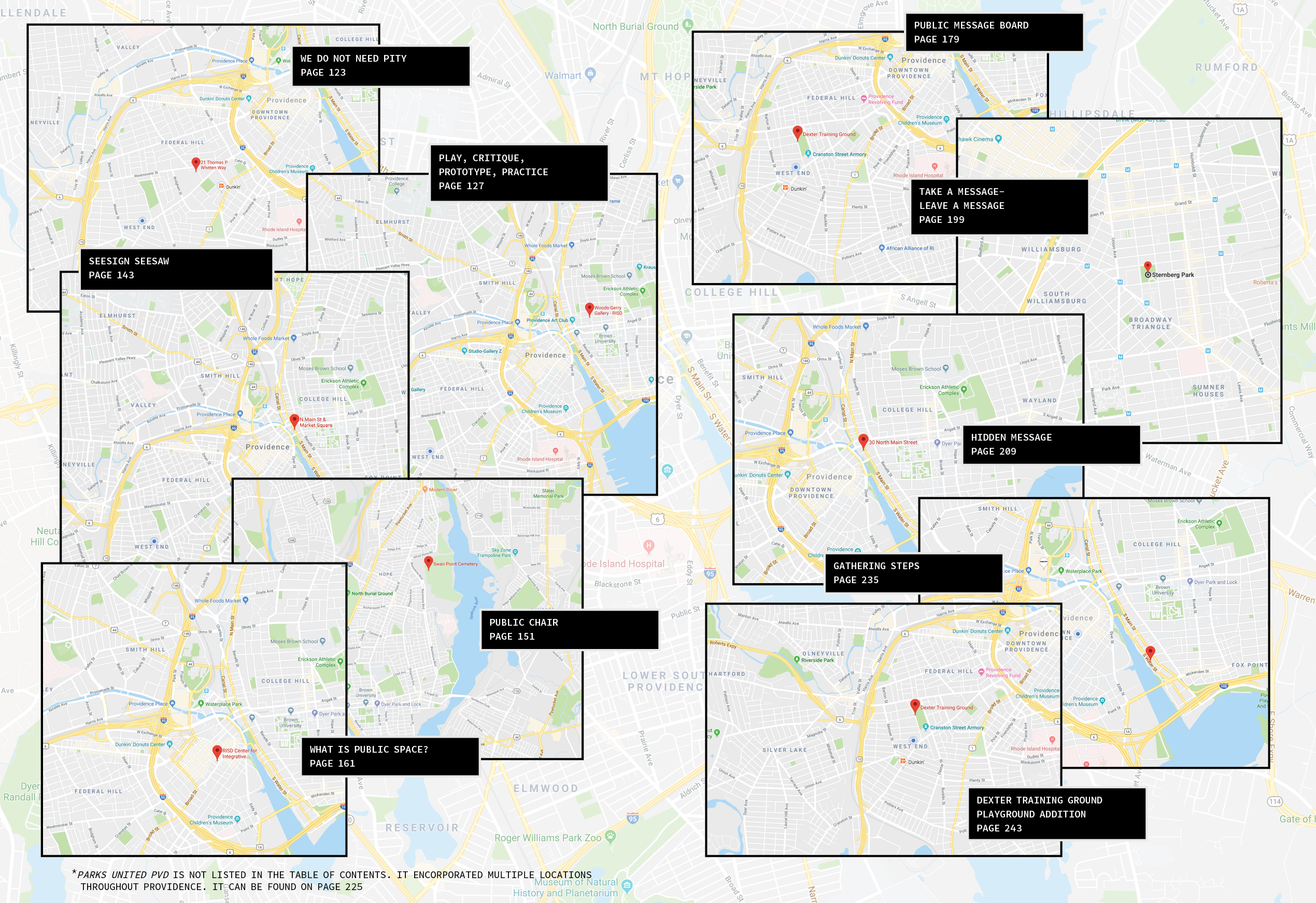 The projects in this section transition my practice from private tests to public installments. These site-specific works approach public spaces as platforms for intervention and empowerment. The performances embrace characteristics of graphic design, environmental design, and social sculpture while employing typography, multi-materiality, and spatiality. The mono–spaced typographic treatments1 attach a noticeable and neutral characteristic to the objects and the everyday materials employed add an approachability.
As the designer of these experiential installations, I am a constructionist
2
—I fabricate a mixture of ready-made objects with commonly found materials to build approachable experiences.
The explicit placement of these objects is a testament to the need of the environments in which they are hosted. The site specificity of these installations creates an openness, an accessibility, to the community that surrounds them.
Take a Message—Leave a Message
is positioned in Sternberg Park, Brooklyn within a culturally rich hub [7 languages spoken within a 2 miles radius],
Public Message Board
, located in Dexter Park on Providence's West Side, is situated in front of the defunct Cranston St. Armory.
Public Chair
hosted in various sites among the Swan Point Cemetery mirrors its environment.
SeeSign SeeSaw
is placed in Market Square in the center of Downtown Providence.
We don't need pity
, a superbraille installation, is situated on a quiet cross street that connects the West side neighborhood to both Classical and Central High schools. Lastly, the signage system of
Parks United PVD
connects ten different public parks throughout the greater Providence area.
Spatial specificity elevates these works as they continue to embody the fundamental principles proven in the testing phase. In this context, generative collaboration and interaction allow for these works to become social sculptures transferring knowledge. Their interchangeable parts–as seen in the two by nine character platform of the
Public Message Board
, the modular interior content of
Public Chair
, and the three by four block system of
SeeSign SeeSaw
—foster opportunities for interpretation and education.
As a way to continue these performances, this section offers a collection of open–sourced
blueprints
3
to guide the recreation of these installments. They fabricate guidelines for anyone to introduce in spaces of communal engagement. Similar to the directives of Sol Lewitt's wall drawings,
4
these conditions respond to the new facilitator and their community.
In addition to the manual pages, a postmortem
5
located at the end of selected projects provides insight into the key takeaways from my personal experience of the full installation process. These insights situate myself and the reader in the research and observation process behind these interventions. Lastly, the postmortem provides evidence of the efficacy of the installation and what could be done in the future to allow these objects to adapt to
new contexts.
1. Set in GT Pressura designed by Grili Type Foundry in 2017.




2. Constructionist is a practitioner of a style in which physical objects are fabricated with commonly found materials. This is a constructionist's workshop.




3. Blueprints are located at the end of selected projects as plans for public reconstruction.





4. Sol Lewitt's wall drawings consist of written instructions and diagrams for others to execute. LeWitt's instructions were similar to musical scores, which are realized in a new way every time they're played. It's possible for LeWitt's wall drawings to take slightly different forms, depending on how his directions are implemented.





5. Postmortem: an examination of a objects or installations life cycle. This reflection determines key observations of the projects accessiblity and usefulness.